PERGOLAS
Cambridge Pergolas Kits
Pergolas Constructed Of High Strength, Low Maintenance Fiberglass
Pre-Packaged Louvered K-Bana
Aluminum K-Bana with louvered panels allows perfect sunlight control in summer and protects from wind, rain and snow in winter (Available as a Special Order Only)
Available in White only; louveres can be manual or motorized
K-Bana cubic module is fully customizable from floor, walls to roof
No footings for installation / easy assembly
Standard size: 8' x 8', 10' x 10', 12' x 12' or specify any custom size up to 36' long x 12' wide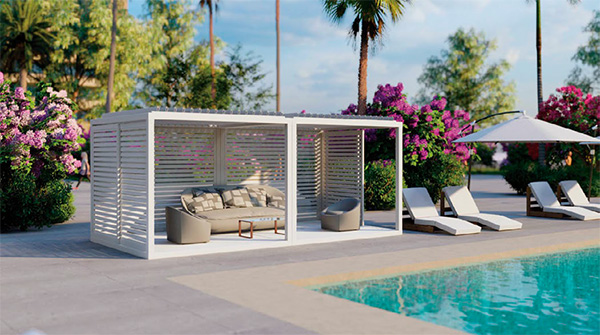 ---
Pre-Packaged Louvered Pergola
Aluminum pergola w/ remote controlled rotating louvers, providing protection against rain & sun
Available in two standard colors: White and Anthracite Grey (shown in photo)
Available in two standard styles: Traditional (white only) and Contemporary (shown in photo)
Standard Size: 11 1/2' x 16 1/2' x 9' high or specify any custom size up to 18' x 18' x 9' high to meet the specific requirements of your project
Integrated LED Lighting included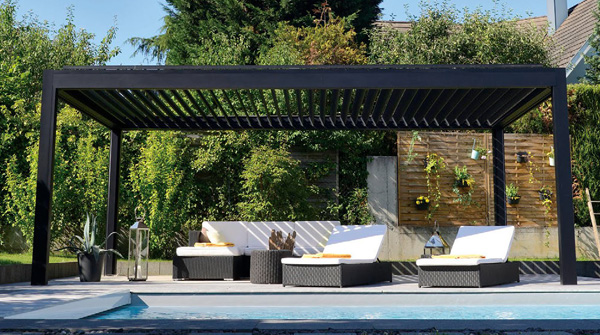 ---
Pre-Packaged Fan-Shaped Pergola
Fits in an area 13' x 13' from corner
Choice of two or four 10" diameter or square fiberglass Tuscan columns & bases (columns come in base white)
Columns can be set on any Cambridge Wallstone Columns (not included)
All components are pre-cut & drilled for easy assembly
Size: 9' 9" high, 9' 2 1/4" wide (back) & 18' 4 5/8" (front)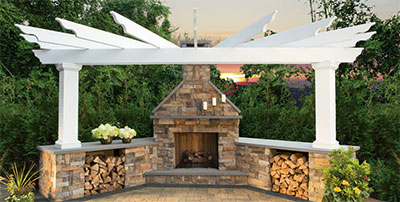 ---
Cambridge Pre-Packaged 4 Column Pergola Kit
For a pleasant respite in a resort-like venue, build this lovely, freestanding structure to provide some shade from the hot sun.
Available In 16' x 16', 16' x 20' & 20' x 20' Or Specify Any Custom Size
In White With A Wide Range Of Custom Colors Available
Four 10" Square, Fiberglass Tuscan Columns To Be Set On Any Cambridge Wallstone Column (Not Included)
Add An Easy To Connect, Optional Overhead Canopy*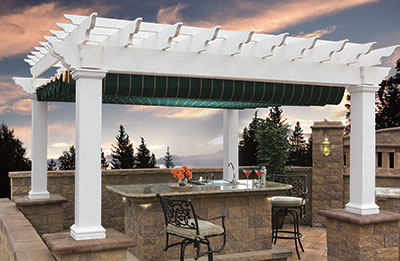 ---
Cambridge Pre-Packaged Colonnade 2-Column Pergola
A custom pergola with pre-packaged convenience! You can custom order the length you need up to 20 ft. for virtually any application.
Standard Size: 9' x 9" High x 8' Deep (Length As Per Order)
Two 10" Diameter Fiberglass Tuscan Columns & Bases (Columns Come In Base White)
Columns Can Be Set On Any Cambridge Wallstone Column Or Outdoor Living Component
All Components Pre-Cut & Drilled For Easy Assembly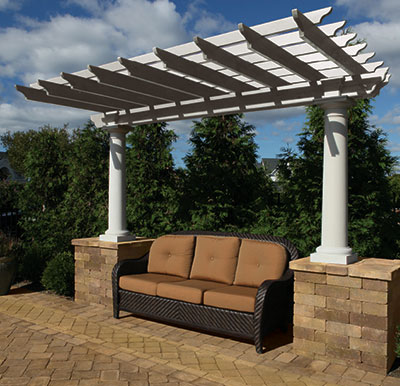 ---
*For extra shelter from the sun and rain, add an easy to connect, optional overhead canopy to your 4 Column Pergola Kit with durable, extruded aluminum parts (excludes purlins as shown in photograph), which includes a WeatherGuard rain layer. A choice of stylish fabrics, green or red with beige stripes and Roman pleats, carries one of the best fabric warranties in the industry!
Pergola Canopy Available Colors