Planning Your Outdoor Space This Fall
September 03, 2018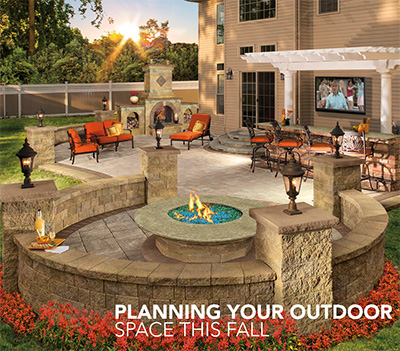 Finding inspiration
With so many options, planning an outdoor living space can be overwhelming. Fall is a great time to start planning and creating a vision of what you want your space to look like. The best place to start is by finding inspiration. There are many resources to help guide you in this process of "gathering inspiration" including, social media, company brochures, online blogs and of course friends and family. Pinterest and houzz are popular websites homeowners gravitate towards. Both these sites give you the ability to collect visual imagery in an organized manner. All you have to do is make an account and start researching! Although social media is a great way to see what's trending, hardscape company catalogs can be informative and give you a better idea of what's available. A lot of the 2018 catalogs are available digitally online. Last but not least, gather inspiration from friends, family and neighbors. Ask them about their outdoor living space and how they found inspiration!
Pick your life style
It's important to think about what you want from your outdoor living space and how certain amenities and features would function with your outdoor lifestyle. If you've recently tied the knot and are looking to be the entertainer of the year, maybe an outdoor bar and pizza oven is what you need to get the party started. If you're looking for something your whole family will enjoy, go for amenities that can be appreciated by all age groups. Give your family an outdoor meal they will remember with an outdoor kitchen or add a pool patio and fire pit for the perfect balance of fun and relaxation.
Check out the hottest trends
When planning your outdoor living space make sure to stay up to date with the hottest trends. Read outdoor living blogs to get credible suggestions from outdoor living experts! 2018 is all about vibrant colors, fire features, open-air dining and outdoor technology. These trends can be easily incorporated into your outdoor living space to give them a sophisticated touch. To learn more about these trends, check out our blog here.