How To Get Your Patio Ready For Winter
December 12, 2017
Although pool parties have come to an end, you can still enjoy a hot cup of coffee on your patio this Winter.
Here are a couple of tips that will make your outdoor living transition easier:
Cover Up
It's time to cover up and store your outdoor furniture. Aluminum and wood furniture tend to be weather resistant, but wicker and steel should never be left out in the cold. It's important not to place a protective cover over wood because moisture can get in and ruin it. When left out in the cold, steel easily rusts, so it's best to store it indoors. If you have metal furniture, check it for signs of rust and remove it with a wire brush before storing it. Outdoor furniture is not the only thing that you may need to cover up. If you have a pool or jacuzzi, they need to be covered as well. Pool covers not only keep leaves out, but can keep out loose electric wires and hazardous materials that may get blown into your patio, making it a safety precaution for children.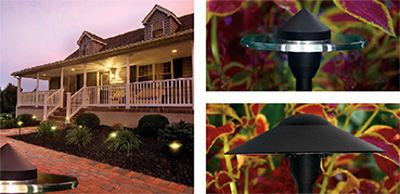 Outdoor Lights:
Another tip to prepare your patio for winter is to incorporate outdoor lighting. Landscape lighting, hardscape lighting and even string holiday lights are a good way to give your patio a warm glow on dark evenings. Cambridge Pavingstones offers a variety of hardscape lighting including LED and solar lighting. To learn more click here.
Clean Up
Before covering and storing your furniture, it's important to clean it regardless of the material. Outdoor furniture can easily be cleaned with dish soap and water. Cleaning it beforehand will prevent mold and rust.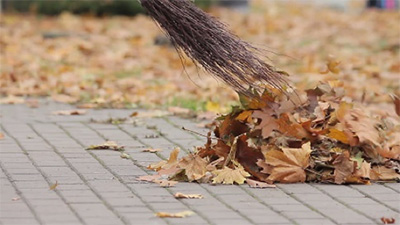 Most homeowners forget to clean their barbeque grill before the Winter season sets in, resulting in them having to do double the work in the Spring. For a charcoal grill, you'd need to get rid of the old coals, scrub it down, and rinse it thoroughly. If you have a gas grill, make sure to shut it off, unscrew the gas lines, and store the tank in a cool, dry place.
Another winter cleaning tip that is often overlooked is sweeping up leaves! You should sweep up any leaves on your patio before they get covered in snow. The last thing you want to do is ruin your patio, especially if it was professionally installed. If leaves or mulch do stain your patio, use Oxyclean 4 scoops to a gallon of hot water. Apply and let it soak for 15 minutes. Scrub with a nylon bristle brush and rinse with water. You may also use Pool Shock. Wet the entire surface to be cleaned then mix 1/2 lb of pool shock with 4 gallons of water. Apply, scrub, and rinse off. Getting rid of fall foliage before the first snowfall will prevent stains, prolong the life of your pavers and keep your patio looking new!
Photos courtesy of:
http://bangkokbest.net/cover-patio-furniture/duck-cover-patio-furniture-cover-patio-furniture-with-tarp-outdoor-furniture-with-waterproof-covering-bench-cover-outdoor-furniture/

https://www.shutterstock.com/video/clip-20718382-stock-footage-legs-of-anonymous-street-sweeper-with-broom-woman-sweeping-yellow-fallen-leaves-in-autumn-city.html?src=rel/13453913:0