Planning A Perfect Poolside Party Paradise
May 23, 2017
I think it is safe to say that with summertime celebrations upon us, be they Fourth of July, other seasonal holidays, birthdays, anniversaries or family get-togethers, a water-themed party is hard to beat. But putting together a homegrown, "big splash" goes a lot further than jumping in the pool and crowding around a picnic table. The value-added benefits of using manufactured hardscape products in the design of a personalized, re-imagined poolside patio lies in their inherent qualities, which range from little or no maintenance requirements to a truly cohesive repertoire of styles, colors and family-friendly comfort and convenience amenities. And the best news is that it can all - barring no procrastination on your part - be ready for a resort-like, July 4th Holiday celebration right at home. Here's why: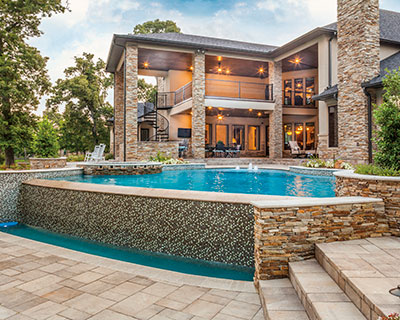 The Poolside Pavement
Materials such as interlocking concrete pavers, cast stone steps and manufactured wall units from Cambridge, available in a continuum of styles and colors, easily correlate with other similarly Cambridge-produced materials for pool coping, steps into the water, built-in raised spas, and custom waterfalls that will contribute to a well-designed, overall milieu. But the reasoning doesn't end there. Slip-resistant concrete pavers are set in sand without mortar, making repairs to underground pool piping easier and less costly that removing and replacing poured concrete.
Coordinated Coping
Pool coping, which separates the pool itself from the adjoining pool deck, is usually cantilevered over the edge of the pool. As opposed fiberglass or plastic, the advantages of using hardscape materials such as sleek Cambridge Bullnose or Ledgestone Capstone with pronounced, bluestone-like clefts are many including long-term durability.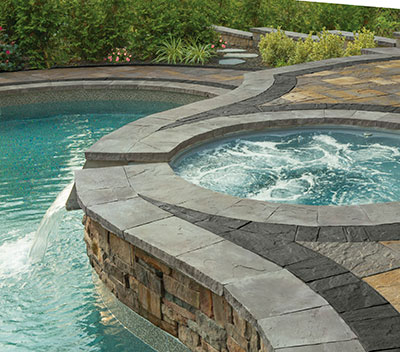 Creating Ambience
According to houzz.com (houzz.com), some of the best pool ideas incorporate seamlessly into the landscape design by using natural-looking material. Resources gotten from nature itself such as boulders, rock faces and river stone blend well with the natural colors, shapes and configurations of manufactured hardscape materials like Cambridge Pavingstones, Cast Stone and Stone Veneer to create favorable associations with architecture and surroundings. The shapes, textures and hues are inspired from their natural counterparts. Designers often mix and match natural and manufactured materials, both available from Cambridge, as well as artisan touches like pottery and plantings when creating green spaces, custom waterfalls, spas and accents around a pool. Whether you are starting from scratch or updating an existing pool, check out some new waterside items such as the Cambridge Double Spout Flexible Basin & Spillway Kit that can be integrated as a custom water feature.

Nighttime pool party settings are enhanced by well-thought out accent lighting. Cambridge has an all-encompassing array of lighting options in solar, LED and incandescent versions ranging from paver lights and path lights to wall, column and pergola fixtures. The inviting aspects of a nearby Cambridge Fire Pit, Bar Module and Grill Module will provide additional, well-situated pleasantries.
Outdoor Living Room Guide
This 100-plus-page book offering photos and details of inspirational pool and poolside treatments is available at any Cambridge Distributor and at cambridgepavers.com.