How to Host Your Very Own Backyard Bonfire
June 05, 2017
There is certainly nothing like a great campfire-cozy evenings, toasted marshmallows, moonlit nights, chatting and enjoying food and drinks with family and friends. Bonfires are one of the easiest parties to throw. There's no need to clean the house or plan a lengthy shopping list. In fact, very little planning is required! Bonfires can be thrown together quickly. Simply call up a few friends, gather some fire wood, and coordinate who brings the food and drinks.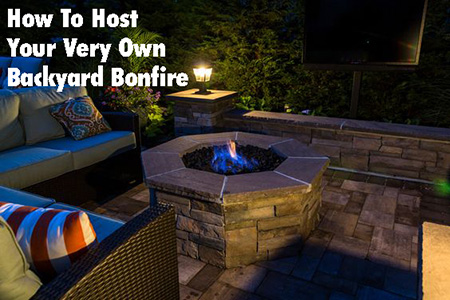 Here's how to have your very own campfire right at home without the outdoor camping hassle:

First things first, the fire pit: with a Cambridge Fire Pit you can have that iconic bonfire experience you have always wanted to have without the mess, making cleanup a breeze. A Cambridge Gas Fire Pit is perfect for relaxation and tranquility. The lava rocks and optional diamond, aqua and emerald colored glass fire beads will grab your guest's attention.
However, if the aroma of burning wood and toasted marshmallows entices you, a wood burning fire pit is what you need. After all, a bonfire would not be complete without s'mores!
The classic graham cracker, melted chocolate, toasted marshmallow combination is a must. For a special treat, create a build-your-own s'mores bar loaded with different candies, spreads, flavored marshmallows, cookies, and even chocolate graham crackers for a twist. One s'mores variation to try is a Chocolate Chip Cookie s'more. Simply take two chocolate chip cookies and place a toasted marshmallow and a few pieces of milk chocolate in the middle. For the kids, make a S'mores PB&J Sandwich. Jelly, graham crackers, peanut butter and marshmallows are all you need.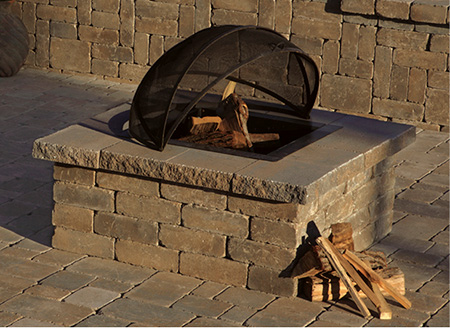 Cambridge offers a variety of wood burning fire pits. With the optional barbeque double grates, you can easily turn your pit into a BBQ. With multiple varieties from an Olde English Square fire pit to a Ledgestone round BBQ and fire pits, you'll be able to choose the ideal fire pit that best compliments the style of your outdoor space.
To create an ambient atmosphere, have music playing in the background. Set the mood with Cambridge Hardscape Lighting or a Cambridge LED Uplight Kit to illuminate focal points throughout your yard. Don't forget to provide blankets for your guests to stay warm with. After all, bonfires usually continue late into the night and sometimes early into the morning, when the weather gets chilly.
Last but not least, have fun! Having a bonfire can be a wonderful way to connect (or re-connect) with people, while having a good time in the process.