Hello Summer, Goodbye Spring! Curb Appeal Transformation Tips
June 16, 2017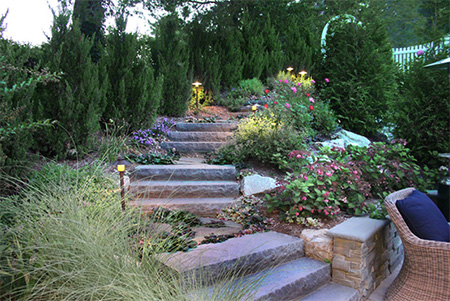 For homeowners, it's the transition time between spring and summer. The remnants of winter are still scattered about your lawn, but not for long! Whether you are struggling with an overgrown landscape, an absence of color, or a weathered walkway, we have some simple transformation tips to aid you with this year's spring cleaning.
First, start off with the garden. A garden is the simplest way to brighten up your lawn. Get your pre-existing garden beds into shape by pulling weeds, adding new mulch, pruning, and adding new flowers. If you are looking to accent your patio, marigolds and petunias pair nicely with a variety of Cambridge Pavers colors, especially Sandstone and Bluestone blends. Create a beautiful border around your garden beds with a Cambridge Landscape Wall using Cambridge Wallstones, Curbstone or Edgestone. These three options will contrast beautifully with your garden beds.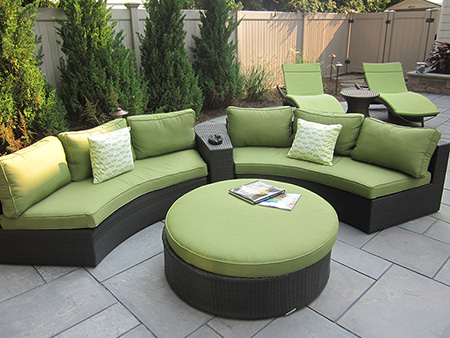 Second, fix the weathering of your patios and walkways. Do you have a 20 year old concrete patio that needs some help? One of the best ways to improve your outdoor space is by installing a new patio with pavingstones that are meant to last. In the long run, you'll be saving yourself time and money. Cambridge Pavingstones with ArmorTec® are the perfect solution. Cambridge Pavingstones maintain their colors and dense surfaces with the added protection of ArmorTec®. Cambridge is a premier manufacturer of products for all of your outdoor living needs. At Cambridge, we believe in providing our customers with exactly what they expect, the very best!
Lastly, get ready for endless summer entertaining. Bring out your patio furniture from last year or add a splash of color by purchasing new cushions to complement your patio and the beautiful curb appeal.