Poolside Sunday Brunch
June 22, 2017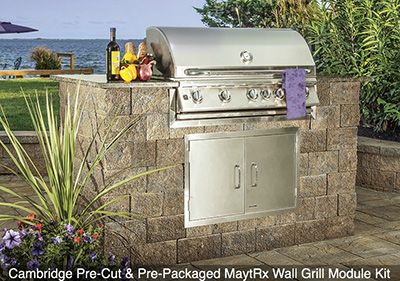 Summer is around the corner and before you know it you'll be spending most days outdoors! A great way to enjoy the extra sunshine is pool side, all the while enjoying your scrumptious brunch. Brunch is a great way to get your family and friends together outside. Take brunch to the next level with refreshing mimosas and a sweet and salty French toast recipe perfect for your Cambridge Outdoor Grill!
Grilled French Toast Kebabs
(Yields 4) - Recipe courtesy of Food Network
This is what you'll need:

• Half of a 12-inch brioche loaf, discard the end and cut the bread into 1-inch cubes (about 48 cubes)
• 8 slices of thickly cut bacon
• 1.5 cups buttermilk
• 4 large eggs
• 4 tablespoons of melted unsalted butter
• 2 tablespoons granulated sugar
• 1/2 teaspoon cinnamon
• Kosher salt
• Cooking spray
• Warm maple syrup
• 8 12-inch skewers
Directions:
Add 6 bread cubes on each skewer 1/4 inch apart and place aside. Set an outdoor grill at medium heat. Grill the bacon until cooked, about 10 minutes. Move the bacon to a paper-towel-lined plate so that any of the access fat can be absorbed. You can also cook the bacon in a grill pan if you have a charcoal grill.
Now whisk together the buttermilk, eggs, butter, sugar, cinnamon and a 1/2 teaspoon salt into a medium bowl; pour into a rimmed baking sheet. Place the skewers of bread into the buttermilk mixture and let them soak. (Approximately 5 minutes)
Spray a large piece of aluminum foil with cooking spray and place it on half the grill. Move the skewers from the baking sheet to the foil at least 1/2 inches apart. Cover the skewers and grill, flipping the skewers as many times as needed. Grill until the cubes are golden and no longer wet, about 5 to 8 minutes.
Remove the skewers and foil from the grill and return the bacon to the grill to warm, about 1 to 2 minutes.
Serve the grilled French toast kebabs and bacon with warm maple syrup. Top with a tiny bit of powdered sugar for garnish.
You've got the perfect brunch recipe, now all you need is the perfect grill. Cambridge has a few outdoor grilling options that are great additions to any outdoor space. All of Cambridge's outdoor grills come with a premium grade stainless-steel appliance package and polished granite countertops. The newest addition to the array of Cambridge outdoor grill module kits is the fully-assembled Stone Veneer Grill Island, for gas cooking and grilling. The Outdoor Grill Island has a band of granite tiles on four sides and a rotisserie rack and warming tray! Every Cambridge Outdoor Grill is available in alternative color choices for endless color combinations for an ultimate poolside brunch experience.