How to Throw an Extraordinary Summer BBQ
July 07, 2017
Summer is the time for barbeques! They are quick, easy to clean up after, and fast to put together. When it comes to BBQs, an outdoor kitchen is a necessity. It is an easy way to entertain by grilling some delicious foods while showing off your summer worthy backyard!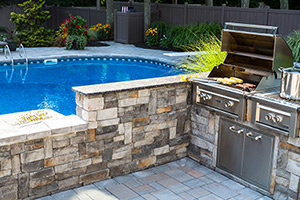 With a Cambridge Outdoor Kitchen Kit, you will have all the amenities you'll need for endless food preparation, cooking and grilling. Some of these amenities include a grill, lights for nighttime grilling, a sink, a refrigerator, a warming rack and even a rotisserie!
Are you avid about grilling? Consider purchasing a Coyote Asado Cooker. With the 304 Stainless Steel Coyote Signature Smoking Grate you can smoke, sear or grill to your heart's desire. There is a range of cooking features from slow roasting and smoking to high heat cooking and baking.
Argentina is known for asado-a celebration of seared meat and flame. Are you ready to try some real Argentinian asado? Consider tackling the recipe below:
What you'll need:
• Meat. Common meat choices include chorizo, blood sausage and the popular Tira de asado (short ribs)
• Wood or charcoal for the cooker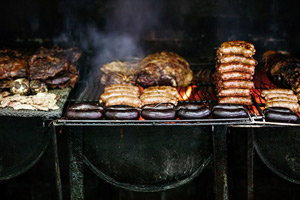 Directions:
1. If you are using coals, get the coals ready by arranging them in a rectangular shape. The coals will be ready when they are covered with gray ash.
2. Add the meat and cook, bone-side down and fat up for around 45 minutes, only turning the meats once.
3. Serve with chimichurri sauce.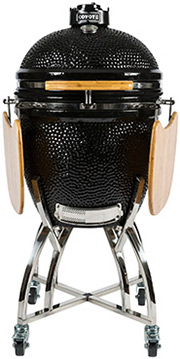 No summer BBQ is complete without a fire pit. Settle everyone around the fire for some roasting marshmallow fun or turn your Cambridge Fire Pits into a versatile, easy to use BBQ!
Cambridge Fire Pits are available in a variety of styles with different components. The Pre-Packaged Ledgestone Round Barbeque & Fire Pit Kit allows you to cook food with its metal ring dual opposing cooking grates. These grates are designed to cantilever over the fire for cooking.
If you are not into wood burning fire pits, maybe gas burning fire pits catch your eye? Lit by natural gas, Cambridge's Gas fire pits produce flames in dazzling flower-like patterns. The one of a kind Fully-Assembeled Gas Fire Table has specially designed, oval-shaped, linear colorful beads. These glass fire beads are available in three different colors-diamond, aqua, and emerald-and can be mixed to create unique designs. They reflect light and sparkle on the outside when the flame is lit. It even creates a fanciful dancing liquid-like display!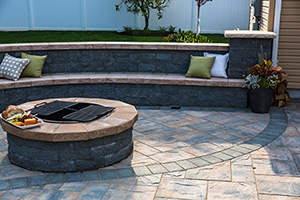 You also may be worried about bothersome bugs. Sage is a great way to prevent bugs, especially mosquitoes. All you need to do is add sage to your fire pit to kick the bugs out of your backyard party! You can even do this with a grill if you don't have a fire pit. Just add the sage to the grill after you have cooked your food.
Now you can get ready for a summer full of exciting backyard parties by choosing an outdoor kitchen design worthy of your summer BBQ's! Grill some delicious food to impress your guests and be fully prepared with one of Cambridge's Outdoor Kitchens, Fire Pits, or the Coyote Asado Cooker. Your guests will not only admire your appetizing dishes but will be captivated by your new stylish backyard amenities. Happy grilling!
2nd Photo courtesy of: TheLatinKitchen.com