Redefine Your Outdoor Living Space With A Pergola
July 12, 2017
A Pergola is a great addition to any backyard. And just in time for summer it will be essential and versatile to stay cool from the hot temperatures. Nowadays homeowners seek to enhance their outdoor living areas. A pergola will do just that, and here are six reasons why: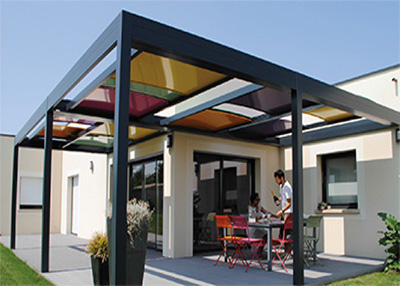 1. Stay cool in the shade: Maybe you love the outdoors but not so much the heat? Enjoy your time outside under a pergola. A pergola provides an area of shade where you can enjoy the summer day without suffering from the heat or worrying about sunburn. Cambridge offers a few stylish pergolas.
You get full protection from the sun and style with Cambridge's Arlequin Pergola. The simple sliding panels manual operation feature allows you to effortlessly decide where you want shade-gather the panels together for maximal light or completely spread the panels apart for total sun protection. You can choose between eight different panel colors-including green beige, zinc yellow, dahlia yellow, traffic red, light blue, pastel green, signal gray and traffic purple-for endless creative options!
2. Entertain: With a pergola, you can create a space to entertain family and guests. Whether it may be a dining area, perfect for summer dinners and cocktails, or a simple lounge area. Create a comfortable seating area complete with TV speakers under the pergola. You can even adorn your pergola with sparkling outdoor string lights for a whimsical atmosphere.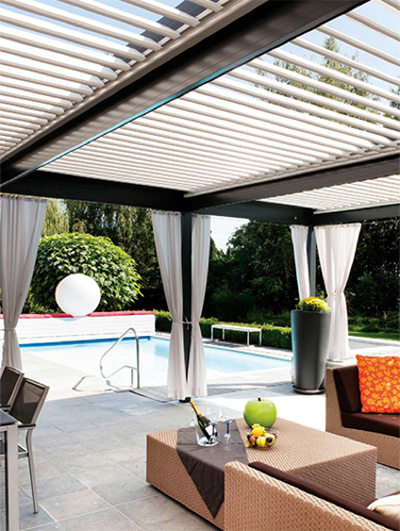 3. Create your very own outdoor room: Homeowners can expand a home's living space with an outdoor room. A pergola allows you and your family to spend more time outside. It's also the perfect place to relax and unwind after a long day! You can live outdoors in style with modern outdoor furniture and even incorporate hotel-like amenities, such as tropical plants, outdoor curtains, and a flat screen to make your outdoor room feel like a resort.
Cambridge's Bioclimatic Pergola offers an expanded space for outdoor living! It is made of individual blades that resemble venetian blinds. There's also no reason to worry about wind and rain with the motorized remote control wind and rain sensors! Homeowner's have three standard colors to choose from: pure white, light ivory, and anthracite grey. An optional installation service is available for homeowners to take advantage of.
4. Add value to your home: Pergolas not only increase the enjoyment and comfort of your outdoor space. In fact, did you know that pergolas could add value to your home? According to Today magazine, "consumers value a landscaped home 11.3 percent higher than a home without attractive landscaping"! It even adds market value to your home. Over the past few years outdoor living has become increasingly popular, making the values of properties with Pergolas rise.
5. Highlight a walkway or specific area: Pergolas can even be used to enhance a walkway or a specific section of a patio. Climbing plants, such as honeysuckle or wisteria, would make for a beautiful, cool and shaded area or passage way.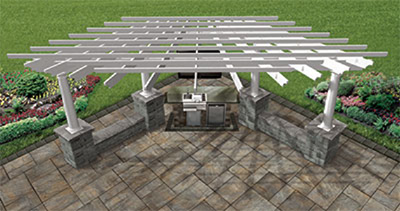 Cambridge's Pre-packaged Fan-Shaped Pergola has a trapezoidal configuration, which is a great alternative to a rectangular pergola. With the choice of two or four 10" diameter fiberglass Tuscan white columns and bases, homeowners could highlight a portion of their patio with this beautiful outdoor living solution. This pergola fits in areas that are 13' x 13' from the corner. The columns can also be set on any Cambridge Wallstone Column. All components are pre-cut and drilled for easy assembly.
Now you have the option to make a change to your deck or patio to give it more visual appeal. Turn your backyard into an Outdoor Living Space you'll love with a Cambridge pergola!