5 Garden Must-Haves for Summer
August 01, 2017
There is plenty to do to beautify your garden during the summer season. Besides deciding which plants and vegetables combinations you'll plant, there are other ways to add pizzazz to your garden. Homeowners can enhance their curb-appeal with gates, lighting, waterfalls and fountains.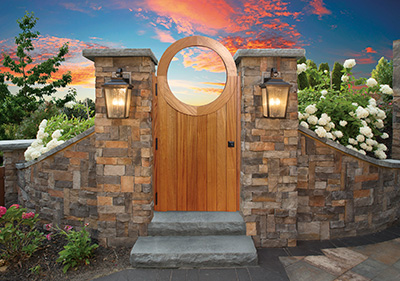 Below are 5 garden "must haves" to accentuate your summer outdoor oasis:
1. Garden Gate There are many advantages of adding a garden gate to your home. It acts as a functional outdoor doorway and a bold decorative statement. One thing to consider is placing it on the side of your house. That way it's visible from the street and becomes an essential part of the home's façade.
This gate is especially designed for exterior use; not only will it highlight the landscape of your home, but it will also lure guests into an enticing space. The Cambridge Garden Gate Kit is a solid mahogany door that is ready to install. It can also be stained or finished and adds security with a deadbolt.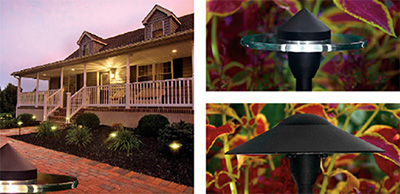 2. Hardscape Lighting Hardscape lights give your garden life! They can be placed along stone steps, be incorporated into pavers/wallstones and along the border of garden beds.
Cambridge has a wide range of hardscape lighting. Made from LEDs, they are energy-efficient and long lasting. Cambridge's LED Path Light Kit can brighten up pathways throughout your garden. Each Path Light Kit includes five die-cast aluminum fixtures available in either a glass or hat style. With a Cambridge LED Uplight Kit you'll be able to illuminate focal points, such as trees and shrubs.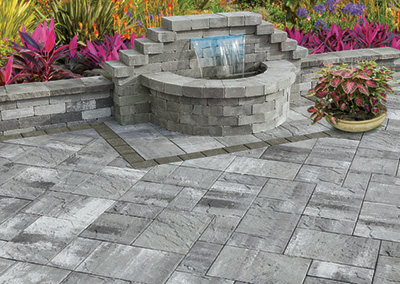 3. Waterfall Fountains are great additions to gardens as architectural centerpieces. They can pour water into a basin or shoot water up into the air for a decorative effect. They not only act as eye-catching focal points, they add soothing sounds and help create a tranquil atmosphere. You can implement this stunning feature into your landscaping with Cambridge Fountain Kits.
4. Cambridge Edgestones Beautify your garden even further with some of Cambridge's Edgestone products. Make your garden stand out by surrounding it with Cambridge Edgestones, which are ideal for mulch beds and gardens. Cambridge Edgestones come in a variety of colors including Toffee/Onyx, Onyx/Natural, Ruby/Onyx, Sahara/Chestnut, Toffee/Onyx, Bluestone Blend and Sandstone, to give you the color choice that best complements your garden.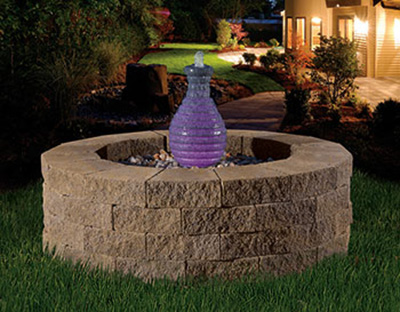 5. Fountain Fountains add curb-appeal to your outdoor space and provide tranquility just by listening to the soothing sounds of the water. Cambridge has various pre-package fountain kits to choose from. The Cambridge Pre-Packaged Fountain Kit is available with a choice of three different wall options (Pyzique Wall Split Face, Renaissance or Olde English Radius Wall) and two different styles. A LED light ring illuminates the vase. Homeowners can either select one light color or run all sixteen sequentially by remote control.
The Cambridge Water Feature With 3 Fountains will be sure to wow guests with not just one, but three spectacular fountains! They are illuminated by LED lights. Depending on the homeowner's preference, the lights will illuminate in either one or sixteen different sequential colors.