How To Create a Fall Inspired Outdoor Space
September 13, 2017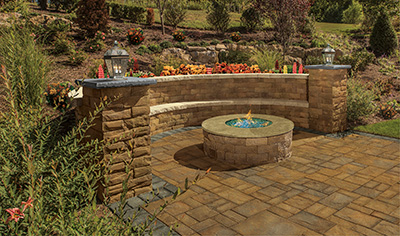 Take your outdoor space from summer to fall in a snap just in time for the brisk, autumn weather. Now is the ideal time to change up your outdoor décor. Put away the bright blues and yellows and swap them out with rich autumn tones. Install a Cambridge pergola for shade and comfort and spend those chilly nights around your Cambridge outdoor fire pit or fireplace.
A pergola covered patio provides shade and relaxation. Outfit your patio for the season with comfy cushions, cozy throws and earth-tone hues. Cambridge Pavers have a few unique pergolas. We offer the Arlequin Pergola which has simple sliding panels that allow you to easily decide where you want shade. The panels can be gathered to offer maximum light or spread for full sun coverage. Choose the color of each individual panel before the pergola is installed, giving you endless decorative combinations! There are eight different panel covers: Green Beige, Zinc Yellow, Dahlia Yellow, Traffic Red, Traffic Purple, Light Blue, Pastel Green and Signal Grey. For the perfect fall patio, Zinc Yellow, Dahlia Yellow, and Traffic Red would pair the best with the season. There is also the Cambridge Bioclimatic Pergola. The whole system is composed of individual blades, like venetian blinds. It comes with a motorized operation with remote control wind and rain sensors, so there's no need to worry about the weather!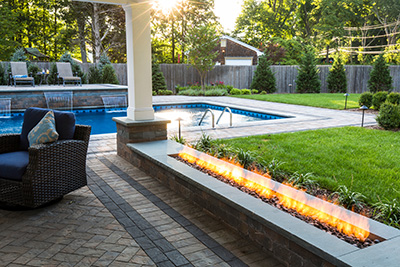 Swap out your summer inspired pillows on your outdoor seating to fall inspired neutrals and evergreens. This change will really evoke the feeling of fall. Adorn your patio with Fall DIY projects. Homeowners can bring touches of light to their yards by filling lanterns with candles. Another DIY project is to dry your summer hydrangeas and use them as fall arrangements.
Fall may also be the perfect time to add seating to your yard. Wallstones are the ideal option when it comes to outdoor seating. Cambridge Seating Walls can be placed in a semi-circle around your Cambridge Fire Pit or Cambridge Outdoor Fireplace. Warm fires invoke conversation. On a cool, crisp evening a heat source, such as a Cambridge Fire Pit, Cambridge Outdoor Fireplace, or even a Cambridge Eternal Flame is the perfect place to gather upon! The Cambridge Eternal Flame is one of the hottest trends with outdoor amenities! This long, linear, gas burning insert brings about nostalgic memories at a favorite restaurant, lounge or lodge setting. Available in natural gas or liquid propane, it can be built into a customizable Cambridge Wall System or situated in an enclosure of Cambridge Wallstones as a stand-alone element.
Let these ideas inspire you to create your very own cozy retreat for fall. It will be a setting that is sure to wow family and friends.