Fall Dinner Party Ideas
September 26, 2017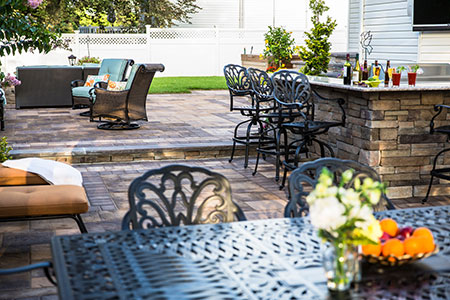 Fall is the perfect time to host a dinner party-it's not too hot and not too cold. This is the time of year when the weather is just the right temperature by day, a little crisp at night, and perfect for a patio dinner party at sunset. Why not host a cozy outdoor gathering this fall using an abundance of seasonal recipes, warm textures and relaxed seating your guests will love? All you have to do is plan the space, the menu and the entertainment!
Plan your space:
First you need to assemble your guest list, most importantly to figure out how large or small your party may be. Be sure to check the weather as well. You wouldn't want you party to be cancelled due to rain or unexpected cold weather. Late September to Mid-October would be the optimal time to host this type of gathering. This way it will still be warm, and if it's chilly, guests could get cozy with blankets around the firepit/fireplace. Since it's a fall dinner party, don't forget to accentuate with trendy fall hues, such as red, orange and yellow and to incorporate these hues into your backyard patio furniture.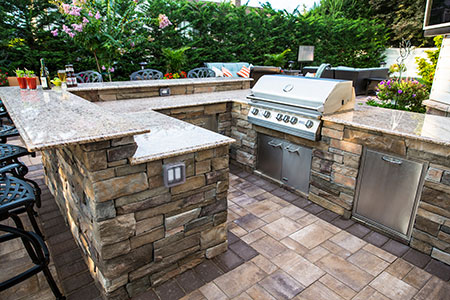 Use seating, food and drinks to create areas your guests will naturally gravitate to. A Cambridge Fire Pit Kit is one area kids and adults will love. Cambridge Fire Pits are available as gas fire tables, gas burning fire pits and wood burning fire pits. The best part is that Cambridge Fire Pits can also be used year round.
Plan the Menu:
A Cambridge Bar Kit is sure to wow your guests! You could serve a signature cocktail, such as sangria, or you could add a fall-inspired touch to a margarita with a splash of apple juice and a dash of cinnamon. Available in two different styles: the Cambridge Pre-Cut & Pre-Packaged MaytRx Bar Kit comes complete with 2 pallets of MaytRx 6 Wallstones. The Cambridge Pre-Cut & Pre-Packaged Olde English Bar Kit comes complete with 2 pallets of Olde English Wallstones. Both kits come with a top of the line 30" Bull™ Bar Center package set in a polished granite countertop in a choice of Black Uba Tuba or Venetian Gold.
You can't host a party without serving food! Forget about the hassle of cooking indoors and cook outdoors, all possible with a Cambridge Outdoor Kitchen! Cooking aficionados will definitely love making tasty meals with a fully-functioning outdoor kitchen from Cambridge with ArmorTec!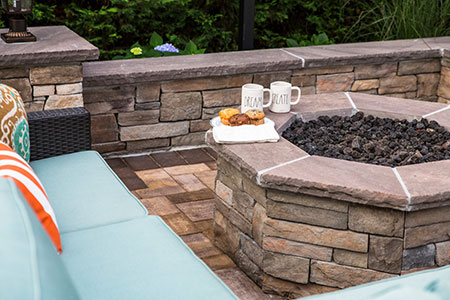 Plan the Entertainment:
Entertainment is an essential part of an outdoor dinner party. You have the option to roast marshmallows and make s'mores with a Cambridge Fire Pit Kit, play music throughout the night and plan backyard games that the kids (and adults) will love. One idea is to play outdoor giant jenga on the grass.
We hope we inspired you to host your own gathering. It's simple to pull together and with the ideas listed above, you're ready to go.