New Products
February 03, 2023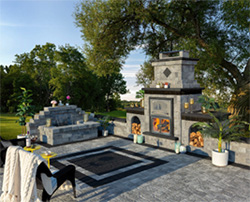 When looking to upgrade your home's backyard living space, it can be difficult choosing the perfect outdoor amenities to match your style! That's why Cambridge's new products offer custom options to help bring your own layer of design and creativity to your backyard!
Ledgestone
The Ledgestone 6x9 paver is a smaller textured paver that is part of our Sherwood collection. This paver can be used as the feature as shown in this image for patio, walkway, or driveway applications as well as a beautiful border stone.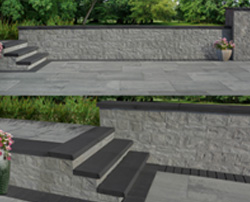 Omega Natural
Cambridge's New Omega Natural walls contain all the necessary stones to make vertical or setback walls, corners, and end of wall, or to create a column and also has connections for all stones included in the pallet. Omega natural can accommodate walls well up to 6 feet! Between the color and shape options, Omega is sure to have a wall unit to suit your taste!
Outdoor Pizza Oven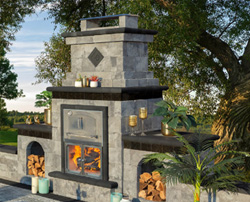 If you enjoy outdoor entertaining and cooking up a delicious meal for your guests, then turn up the heat in your outdoor kitchen with the addition of a pizza oven! Cambridges brand new fully assembled pizza ovens are super easy and convenient to install. Not only are they great for cooking pizzas but they can also be used to grill, roast, smoke, barbeque and even make some delicious homemade bread and dessert! They also come with a fireplace which serves as the perfect cozy and comfortable gathering and cooking space!
Stone Veneer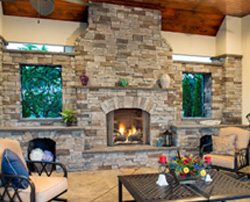 Cambridge's new Stone Veneer Canyon Ledge in the Color Niagara has a weathered texture that adds a rustic beauty to any residential or commercial facade, gable, and entrance way as well as on pillars, in porticos, and 4 season outdoor rooms, in addition to custom fireplaces and much more! The rustic look is reminiscent of rural, old country cottages and retains all of the dimensional characteristics of the handpicked pieces from which it was cast. Niagara's cool and consistent tones of blue, white and gray come from the deeper areas of the quarry and add a beautiful pop of color to your outdoor space!
Fireplace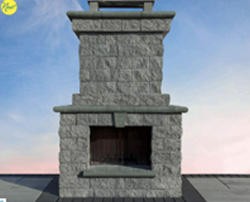 There is nothing better than brisk nights or sweater weather spent next to a fireplace! Outdoor fireplaces are great for spending quality time with your family, or as a focal point for your next backyard soiree! Cambridge's new fully assembled MaytRx Plus Split Face Wall fireplace is perfect to stay warm and toasty in your outdoor space during all four seasons! Cambridge also offers a Mini Fully Assembled MaytRx Plus S/F Fireplace for homeowners with small spaces but big ideas! Each MaytRx wall stone comes in two different heights- 3" and 6" and two different styles- Split face or Renaissance Stone!
At Cambridge, we understand that each person's outdoor living space is unique! Our new products offer custom sizing and designs to better fit your outdoor living space and complement the natural design of your home!