Must Have Outdoor Components
February 02, 2023
Taking your entertainment space outdoors is continuing to increase in popularity and demand. Most homeowners enjoy spending time in nature and find that there is nothing more relaxing than sitting in their outdoor space and enjoying quality time with their loved ones. When you spend time outdoors with the help of your newly designed backyard, you can experience many benefits for your mental health and wellbeing. Improved memory, reduced stress levels, sharper thinking, and creativity, are just some of the many benefits of spending time outdoors. Consider incorporating these Cambridge amenities to make your outdoor space a place you look forward to coming home to everyday!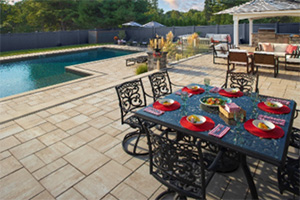 Kitchen
One of the best decisions you could make would be to create an outdoor kitchen! An outdoor kitchen is an investment that helps improve your own wellness, as well as the wellness of your family! It provides you with an opportunity to spend more time outdoors and improves your overall wellbeing. An outdoor kitchen also encourages your guests to gather around, enjoy the great outdoors and socialize while you do the cooking and prepping all in one place without having to run in and out of the house!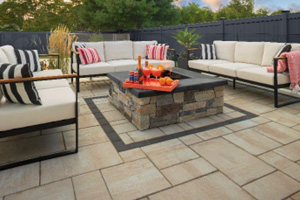 Fire Pit
Who doesn't enjoy cozying up in front of a fire? Fire pits are an excellent way to enhance the experience of your outdoor space! They're aesthetically gorgeous and serve as the perfect centerpiece for evenings with your loved ones. Cozy up near the firepit to enjoy an evening drink or late-night s'mores with family and friends or grab a book and simply unwind after a long hard day! With a firepit you and your guests will want to sit outside, talk and enjoy your outdoor space all night long.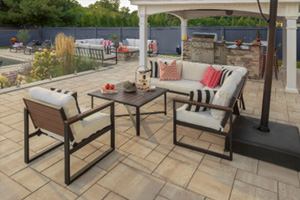 Pavilion
Pavilions are stunning in its simplistic, classy and inventive design. Not only does it provide full shade coverage during the hot summer months, but it also provides shelter from rain and snow! Whether you're throwing a party or simply want some fresh air to read a good book, a pavilion provides you with a dry and comfortable place to sit and relax. Transform your pavilion into an extension of your home with indoor elements such as a couch, outdoor TV and even a fireplace!
These outdoor amenities will upgrade your outdoor space and boost your overall wellness. And isn't your own health and livelihood the most important thing you can invest in?