Stylish Large Format Pavers
February 01, 2023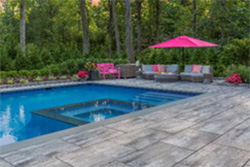 Are you looking to start planning your dream backyard? Ledgestone from the Sherwood Collection is one of Cambridge's most popular pavers! Like any other Cambridge outdoor product, Ledgestone is very versatile and comes in a variety of different colors, shapes, and sizes to complement any outdoor space perfectly!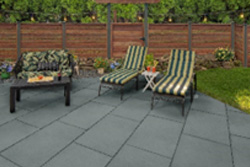 Bold and immediately noticeable, large pavers create an instant indoor-outdoor effect! Depending on your style, you can choose between textured or smooth pavers. If a natural look, earth tones and organic feel and style are your top priorities, textured ledgestone is a great choice. If you're looking for a more modern and sleek look, smooth stone is definitely the way to go. Choosing a paver that complements your home's exterior is key to creating a beautiful outdoor oasis!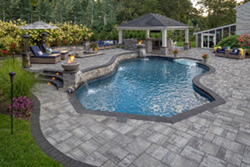 The color of your pavers should harmonize with the aesthetic of your home, landscape and surrounding environment. That's why Cambridge offers so many different color options. Bring lighter and character to your outdoor space with a tone like Sandstone Lite or mimic the beauty of driftwood that washes ashore on beaches with the tone Driftwood. You can even mix and match complementary colors to create an oversized "chess board look". The possibilities are endless!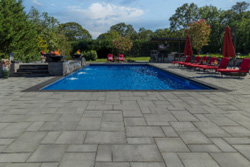 The last aspect to consider is what size stone to add into your outdoor space. If you're looking to create more of a modern space, consider a large, formatted paver such as Ledgestone XL, and Ledgestone 24x 36 smooth. If you're looking to incorporate multiple sized pavers, Cambridge offers a Ledgestone smooth 3-piece design kit! Large-format pavers open up a world of options for creative designers and landscape architects. Their size makes them look quite attractive in areas where small pavers might not work as well.
Stylish, versatile, and highly durable, our selection of large concrete pavers is the perfect choice for your next landscape design project!