National Mocktail & Pizza week
January 02, 2023
There's no better way to spend quality time with your family and friends, enjoying a delicious homemade pizza while sipping on a delectable drink. National mocktail and pizza week is celebrated throughout January 8th to the 14th. Not only does this week give you the perfect excuse to indulge in a yummy slice of pizza and enjoy a refreshing mocktail but it's also a great way to bring everyone together! Take advantage of this week to channel your mad mixing and mocktail making skills while experimenting with different pizza toppings!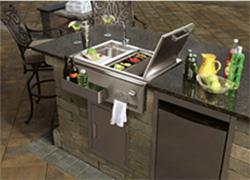 Bar kit
Whether you're just beginning to make drinks, or you've been mixing for years, a bar kit is a great way to inspire you to try new drinks and learn new skills. It makes a great dedicated area for mixing a drink, and it's welcoming enough that guests feel comfortable walking up and making their own! Cambridge Pavingstones bar kit can transform your outdoor space into a tropical oasis that is perfect for entertaining. Take advantage of your bar kit during National Mocktail week to create unique drinks that will wow your family and friends. Afterall, you don't need alcohol to make a great mixed drink. Some popular mocktails include virgin margarita, Shirley temple, virgin mojitos, non-alcoholic Pina Coladas, the possibilities are endless! You can find many different drink recipes here: https://thecocktailery.com/products/mocktail-party-75-plant-based-non-alcoholic-mocktail-recipes-for-every-occasion
Virgin Cucumber Gimlet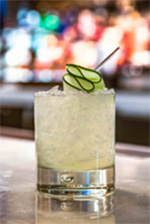 This refreshing cucumber mocktail is just as delicious and fun as its boozy counterpart! (Photo and courtesy of ocean-prime.com).
Ingredients
1.5 oz club soda
4-5 slices of muddled cucumber
1 oz fresh lime juice
1 oz simple syrup

Instructions
Combine all ingredients and shake with ice. Serve in a rocks glass over crushed ice. Garnish with a rolled cucumber slice.
Pizza Oven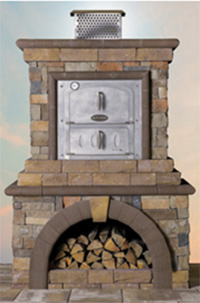 A warm, cheesy homemade pizza is without a doubt the best way to celebrate National pizza week! An outdoor pizza oven is a wonderful way to bring your loved ones together while enjoying the heat, motion of the flames, and, of course, the delicious aroma of freshly baked pizza. Fire up your Cambridge outdoor pizza oven and make personalized pizzas that everyone will love! Make sure to set up a station equipped with a variety of sauces, toppings, and pizza dough. This way everyone can pick and choose what goes on their pizza and call it their own. What better way to keep the party going than to have everyone guess what type of pizza it is once it is done!
Kick off the New year with National pizza and mocktail week!