National Resolution Day
December 03, 2022
Ever feel like time is flying by? In the blink of an eye the whole year has gone by, and all your outdoor patio plans must be put off yet again. A new year brings with it the chance at a fresh start – new goals, accomplishments, and ambitions. While many people focus on self-improvement, consider concentrating on home improvement in 2023!
Afterall, spending time outside and breathing in the fresh air is one of the easiest ways to improve your mental health and reduce stress! So many homeowners dream of creating a beautiful and functional outdoor space but don't know where to start. Here are some of the best tips to go about the planning process!
The first thing you need to do is ask yourself "How do I envision using this outdoor space?"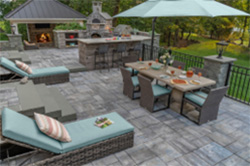 Are you looking to host family and friends?
Now that the holidays are officially in full swing, family gatherings bring plenty of reasons to entertain. From holiday gatherings with loved ones to welcoming in the New year, you'll save yourself the unnecessary hassle and clean up by extending your festivities to the outdoors! Consider incorporating a fully assembled kitchen and firepit into your outdoor space to create the perfect entertainment spot your guests will be sure to love.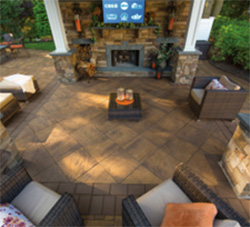 Are you looking to create a space you can enjoy all year round?
Design an outdoor space that's all about comfort and convenience. Fire pits and patio fireplaces provide a warm and welcoming feel for any gathering! To encourage your guests to unwind and remain warm, provide seating around your outdoor fire pit. You can even set up a little station filled with marshmallows, graham crackers and chocolate to make smores for an extra sweet treat! If you are looking to enhance the quality of your outdoor living experience, look no further than installing a pavilion! A pavilion will shield you from unexpected weather and keep you covered in style all year round.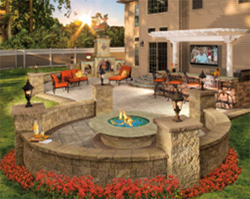 Are you looking to create a space where you can relax and unwind?
Imagine relaxing under the stars, enjoying a conversation or a quiet moment with yourself or a loved one. You're cozied up in a comfy chair near your firepit, listening to the soothing sounds of the fire crackling with your favorite glass of wine in hand. Sounds like a dream, doesn't it? Designing a space where you can escape and enjoy some fresh air is just what you need! Upgrade your outdoor space so that you can skip the beach and spend time relaxing right in your own backyard! The Cambridge Bar kit, Bistro table and firepit are all great options to create the perfect staycation.
It's time to stop staring at your neighbor's outdoor patio and start bringing your ideas to life. Take advantage of the New Year and create a space you love to come home to!