December Drinks Blog
December 02, 2022
One of the best ways to embrace the cold is to huddle around a fire pit cuddled up in your favorite cozy blankets while sipping on a cup of mouthwatering hot chocolate or eggnog with your loved ones!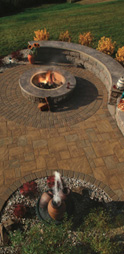 Hot cocoa brings back nostalgia and is a staple during the winter months. This drink reminds us of skiing, sledding or even a quiet day watching the snowfall. It's thick, silky, and usually topped with fluffy whipped cream. It's perfect to enjoy when all you need is a little snuggle and warmth, hot cocoa warms your whole body and tastes delicious too! National Cocoa Day is celebrated on December 13th, so cozy up near your firepit and enjoy your favorite chocolate beverage. There are a variety of flavors you can try: Mexican hot chocolate, white hot chocolate, peppermint hot chocolate and so much more. Host a mini hot chocolate happy hour for your loved ones to liven up everyone's favorite winter drink!
Mexican Hot Chocolate
The richness and creaminess of this homemade hot cocoa will have everyone coming back for more! (Recipe and photo courtesy of isabeleats.com)

What you'll need:
• 2 cups milk
• 2 tablespoons unsweetened cocoa powder
• 2 tablespoons granulated sugar
• 1/2 teaspoon ground cinnamon
• 1/4 teaspoon vanilla extract
• 1/8 teaspoon chili powder
• 1/8 teaspoon ground cayenne (optional – you can omit this if you don't want it too spicy)
• 1 ounce bittersweet chocolate
• Marshmallows chocolate shavings, cinnamon stick for stirring

Directions:
1. In a medium saucepan over medium-high heat, add milk, cocoa powder, sugar, cinnamon, vanilla extract, chili powder, cayenne pepper (if desired).

2. Mix together with a whisk, add the bittersweet chocolate and heat until the chocolate has completely melted, and the mixture is hot, but not boiling

3. Divide hot chocolate into 2 mugs and serve with marshmallows, chocolate shavings and a cinnamon stick

Raise a holiday toast on the day before Christmas with a tasty cup of eggnog! National Eggnog Day is celebrated December 24th, the sweetened dairy-based drink is typically made up of milk, cream sugar, whipped eggs and spices. Gather round the fire and sip on a creamy festive classic! Mix it with some alcohol for an extra punch!
Classic Eggnog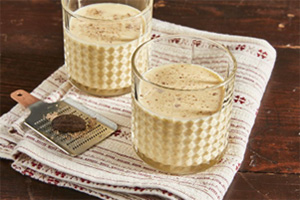 This eggnog recipe is a classic! It's sweet, creamy and so good! (Recipe and photo courtesy of allrecipes.com)

What you'll need:
• 4 cups milk
• 1 teaspoon ground cinnamon
• 5 whole cloves
• 2 1/2 teaspoons vanilla extract, divided
• 12 large egg yolks
• 1 1/2 cups white sugar
• 4 cups light cream
• 2 1/2 cups light rum (Optional)
• 1/2 teaspoon ground nutmeg

Directions
1. Combine milk, cinnamon, 1/2 teaspoon vanilla, and cloves in a saucepan over the lowest heat setting; stir and heat for 5 minutes. Increase heat to medium-low and slowly bring to a boil. Remove from the heat.

2. Whisk egg yolks in a large bowl until light yellow in color. Add sugar and whisk until light and fluffy.

3. Pour some of the hot milk mixture into the egg yolk mixture, whisking quickly to avoid scrambling the eggs. Continue adding hot milk and whisking to combine until all milk is incorporated.

4. Pour the mixture back into the saucepan. Cook over medium heat, stirring constantly, until thick, about 3 minutes; do not allow the mixture to boil. Strain to remove cloves and let cool for about 1 hour.

5. Stir in cream, rum, remaining 2 teaspoons vanilla, and nutmeg. Refrigerate before serving, 8 hours to overnight. Celebrate National cocoa and eggnog day this winter near your firepit!