Outdoor Thanksgiving Celebration
November 03, 2022
Hosting an outdoor Thanksgiving dinner might sound complicated, but it's actually super easy and can relieve some of the normal holiday stressors. Are you worried about cleaning up every inch of your home and fitting everyone around the dinner table? An outdoor space extends your hosting area and gives you more room to accommodate your guests in comfort! Dreading the yearly struggle of cooking and cleaning up the endless pile of dishes? Using your outdoor kitchen and grill is super convenient and gives you a lot more flexibility! Invite everyone outside this Thanksgiving for a celebration they will never forget!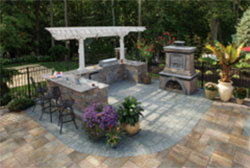 Pizza Oven
Thanksgiving dinner is one of the most highly anticipated meals of the year! Make the most of all your preparation and planning by transforming your leftover turkey and sides into mouthwatering next-day dishes that are just as tasty as the original! Fire up your Cambridge outdoor pizza oven and make a unique thanksgiving pizza everyone will love! There are a wide variety of topping combinations you can make depending on what your favorite leftovers are (stuffing, sweet potato, veggies, etc.). Leftover gravy or spinach dip can make a great dip for the crust as well!
Thanksgiving Pizza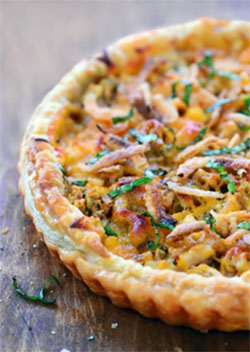 This pizza is the best way to eat Thanksgiving leftovers! It is filled with turkey, stuffing, mashed potatoes all in a crispy puff pastry crust! (Recipe and photo courtesy of thegunnysack.com)
What you'll need:
• 1 puff pastry sheet, thawed according to the instructions on the package
• 1/2 cup mashed potatoes
• 5 tbsp gravy,, divided
• 1/4 cup corn
• 1/4 cup green bean casserole
• 1/2 cup chopped turkey
• 1/2 cup stuffing
• 1/2 cup shredded cheddar cheese
• 1/4 cup French fried onions
• 1/4 tsp freshly ground black pepper
• Basil, parsley, or thyme, for garnish

Directions:
1. Preheat oven to 400 degrees.

2. Gently press puff pastry sheet into a greased 9-inch tart pan (or use a 9-inch pie pan). Trim the corners and use them into fill in any empty spaces along the sides of the pan.

3. Spread the mashed potatoes over the bottom and drizzle with two tablespoons of gravy.

4. Sprinkle with corn and green bean casserole.

5. Top with turkey, stuffing, and three tablespoons of gravy.

6. Sprinkle with shredded cheddar cheese.

7. Bake at 400 degrees for 18-20 minutes.

8. Sprinkle with French fried onions and bake for an additional 3-5 minutes.

9. Garnish with basil, parsley or thyme and freshly ground black pepper.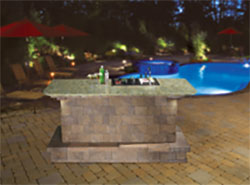 Outdoor Bar
No Thanksgiving is complete without raising your glass to give thanks! The holidays are a perfect time to brush up on your home bartending skills and impress everyone with unique signature cocktails. Set up a bar cart outside and mix up some drinks that complement your thanksgiving feast. Keep everyone extra toasty with hot drinks like mulled wine or cider, hot chocolate, and whiskey-based cocktails!
Pecan Pie Martini
A festive, simple pecan martini made with a blend of seasonal ingredients! It's sure to be a hit at your thanksgiving party! (Recipe and photo courtesy of delish.com)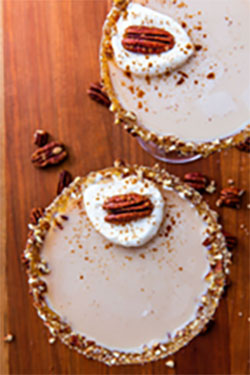 What you'll need:
For garnish
• 3 tbsp. caramel, microwaved until pourable
• 1/4 c. toasted chopped pecans
• Cool Whip, for garnish
• 3 whole pecans, for garnish
• Sprinkle of cinnamon, for garnish

For cocktail
• 6 oz. rumchata
• 6 oz. creme de cocoa
• 3 oz. bourbon
• Ice

Directions:
1. Place caramel and toasted chopped pecans on separate small shallow plates. Dip the rim of each glass first into caramel and then into chopped pecans to coat.

2. Combine rumchata, creme de cocoa, and bourbon in a large cocktail shaker. Fill with ice and shake until cold, 30 seconds. Pour into martini glasses and top with a dollop of whipped cream, a whole pecan, and a sprinkle of cinnamon.
Firepit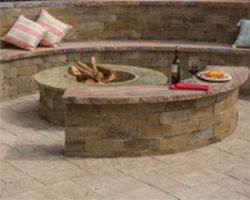 Enchanted meals depend upon the magic of lighting! Light up your outdoor space with a gorgeous glow from your Cambridge fire pit! Place some blankets and cozy pillows for everyone to keep warm and enjoy the chilly Fall night! Around the fire pit the focus is on conversation, the opportunity to create more than just treasured memories, but to also connect on a deeper level. So, invest in some quality time with your loved ones and enjoy being in the present moment – because that's what thanksgiving is all about!
Sometimes we can get caught up in the things we want and ignore the things we already have. Thanksgiving is a remarkable time to sit down and think through everything we have in life to be grateful for!