National American Football Day
November 01, 2022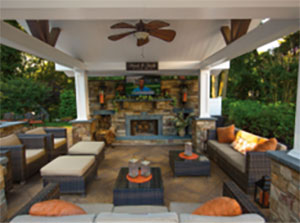 Fall is in full swing, which means it's football season once again! National Football Day, celebrated on November 5th each year, honors the most popular sport while also giving us an excuse to sit back and enjoy some quality time with family and friends!
Pavilion
This year, enjoy the game outside by setting up a TV in your pavilion! A pavilion serves as the perfect entertainment spot! Having the shelter will guarantee that you are protected from unexpected weather. While supporting your favorite team, bring some cozy blankets and sit by your outdoor fireplace to stay warm. Stock up on your favorite snacks while enjoying an ice-cold beer or beverage of your choice.
Outdoor kitchen
One of the best parts of any football party is the food, and when the party's outside, there are plenty of options of what to serve! Fire up the grill for some hotdogs and burgers or set up a chicken wing buffet for everyone to serve themselves. With an outdoor kitchen you won't have to worry about running back and forth into the house to restock food and drinks. This will allow you to enjoy quality time with your guests and take the stress off you as a host!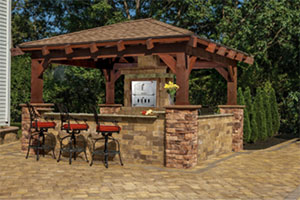 Pizza oven
Kick off the fun with customizable pizzas everyone will love! An at home pizza party hits the sweet-spot combination of convenience and fun! It's also a great way to involve all your guests and enjoy a delicious meal. After all, who doesn't love a good homemade pizza? Heat up your Cambridge outdoor pizza oven and set up a station with various toppings where everyone can mix and match their desired toppings!
Take advantage of your outdoor space early this year and watch the football game outside! Sit back and cheer on your favorite team under your pavilion while enjoying some delicious snacks and drinks!