National World Mental Health Day
October 01, 2022
October 10th is World Mental Health Day! Mental health has become more important now than ever before; it impacts every area of our lives. Taking care of your mind is just as important as taking care of your physical health. It's easy to get caught up in negativity. Between the constant news cycle, work, and social media, it can feel like the world is closing in on you. But it is crucial to prioritize your mental and emotional well-being. When you allow yourself the time and space you need to de-stress, it allows your body and mind to recover and start the next day feeling refreshed. If you have been feeling stressed and exhausted lately, these tips can help you elevate your mood, become more resilient and recharge!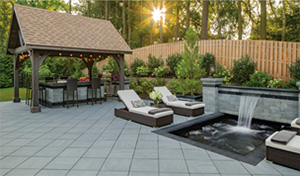 Meditation
Meditating has profound and long-lasting effects on our lives: it reduces stress, helps us understand our pain, strengthens our connections, sharpens our focus, and makes us more compassionate toward ourselves. Find a quiet area in your outdoor space and practice mindful meditation. Pay attention to your breathing and the breath as it goes in and out and notice how frequently your mind wanders off and gets distracted. The muscles of mindfulness and concentration are strengthened by the repetition of coming back to the breath. It's important to pay attention to your breathing and bring yourself back into the present moment. Practicing meditation daily can also help you mentally clock out of work and enjoy your time at home!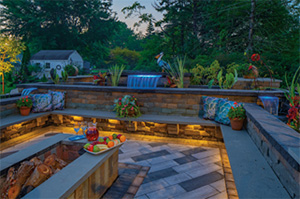 Creating a peaceful oasis in your outdoor space
A tranquil and soothing outdoor space incorporates calming sounds, the outdoors, fragrant plants, and green areas with seating areas that offer a place to unwind and escape from the outside world. Design a private sanctuary in your backyard to relax and connect with nature. Listen to the soothing sounds of water trickling down your waterfall while you meditate or watch your firepit light up your outdoor space with a romantic glow as you kick back on your comfy chair and read your favorite self-help book!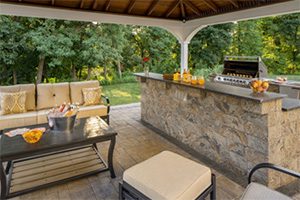 Family time
In our current world of pervasive screens and social media many of us have become less social and have forgotten about the importance of spending quality time with those we love. Being physically present with our loved ones creates a sense of belonging which reduces depression, anxiety, and other mental illnesses. Put down the phone, invite your family over and create some fun, meaningful memories. Set up a comfortable space under your pavilion to watch your favorite sports games and movies or cook up some dinner and enjoy outdoor dining! Whatever you do, just make sure you are in the present moment!
Practicing gratitude
From improving our mental health to strengthening our relationships with others, practicing gratitude can be a massive game changer! People who regularly express their gratitude by taking the time to notice and reflect on the things they are grateful for feel more alive, express more compassion and kindness, and even have stronger immune systems. They also experience more positive emotions, sleep better, and feel more alive overall. Acknowledging the little things that make you happy throughout your day helps you notice the little wins- like a stranger holding the door open for you or the sunny weather peeking out from your blinds in the morning!
Your quality of life is significantly influenced by your mental health. Adding healthy behaviors to your daily routine can help you feel better even while many of the things that can affect your mental health are still outside of your control.