Labor Day Pizza Party
September 03, 2022
Labor Day weekend is the last holiday before we wave goodbye to the sunny days of summer. Take advantage of the warm weather by bringing your family and friends of all ages together with a simple, customizable and fun pizza party in your outdoor space!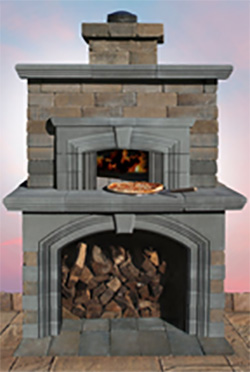 An outdoor pizza party is super easy to prepare! All you need to do is set up a pizza making station equipped with sauces, pizza dough and different yummy toppings. Once everyone has created their personalized pizzas, fire up your outdoor Cambridge pizza oven and get to baking! Don't forget to make appetizers everyone can munch on and enjoy. With a Cambridge pizza oven, you can make a variety of dishes and appetizers right in your own backyard. All with authentic, brick oven flavor! Consider making grilled shrimp, homemade bread or roasted vegetables.
Ooni Pizza Dough
Got a pizza oven and want to fire it up? This Ooni pizza dough has a perfect light and chewy crust that will have everyone coming back for more! (recipe and photo courtesy of acouplecooks.com)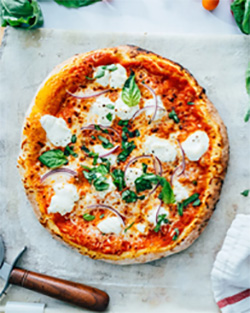 What you'll need:
• 500 grams* Tipo 00 or all-purpose flour (3 ? cups)
• 8 grams instant or active dry yeast (2 teaspoons)
• 7 grams kosher salt (1 teaspoon)
• 310 grams warm water (1 ¼ cups + 1 tablespoons)
• 13 grams olive oil (1 tablespoon)
• Semolina flour (or cornmeal), for dusting
Directions:
1. Mix the dough:
Combine the flour, salt, and yeast in a bowl or the bowl of your stand mixer. Stir to combine. Add the water and olive oil and stir until a raggy dough forms. Turn the dough out onto a floured surface.
2. Knead the dough:
Knead the dough by pushing with the base of your palm, then reforming it into a ball. Continue kneading for 8 minutes until the dough feels pillowy and has a smooth, stretchy exterior. If the dough is very sticky, add a small amount of flour while kneading. Alternatively: attach the dough hook to a stand mixer and start the mixer on medium-low speed, then allow the mixer to knead for 8 minutes.
3. Rest the dough:
After the kneading is finished, divide the dough into 3 equal pieces. Using floured hands, gently shape each half into a boule (ball shape) by folding the dough under itself. Set each boule on a floured surface and dab the dough with a bit of olive oil to keep it moist. Cover all boules with a damp towel and allow them to rise until doubled in size, about 45 minutes to 1 hour.
4. Optional:
chill up to 3 days: The dough can be used immediately. However, for the BEST flavor, transfer the dough to separate sealed containers, large enough for the dough to double in size again, and store in the refrigerator for 2 to 3 days. (We don't always do this, but we try when possible because it makes for a noticeably nutty, unique flavor that truly is the best homemade pizza dough you've ever had.)
5. **If you're using the dough after refrigerating:
The day of serving, remove the dough from the containers, place it on a lightly floured surface covered with a towel, and allow it to come to room temperature before stretching, 30 to 45 minutes.
6. Preheat:
Preheat the pizza oven.
7. Stretch the dough:
When the oven is ready, dust the stainless steel pizza peel with cornmeal or semolina flour. To stretch the dough, place it on a lightly floured surface and gently press it into a circle, flipping several times and adding a pinch of flour if it is too sticky. Once you have about an 8-inch circle, pick up the dough and gently drape it over the knuckles on both of your hands. Slowly rotate it around, allowing gravity to stretch it into a circle about 11 inches in diameter. Do not overwork or fold the dough. If the dough starts to resist stretching, put it down and allow it to rest for a few minutes, at which point it will stretch more easily. Gently place the dough onto the pizza peel.
8. Top the pizza:
Top the pizza according to the pizza recipe you're using.
9. Bake the pizza:
Use the pizza peel to carefully transfer the pizza to the pizza oven. Bake the pizza until the cheese is melted and the crust is lightly charred, about 1 to 2 minutes in a pizza oven (follow the specific instructions that accompany your oven). Allow the pizza to cool for a minute, then slice into pieces and serve immediately.
Make Labor Day memorable this year by throwing a pizza party in your outdoor space!