National Hot Mulled Cider Day
September 02, 2022
As the temperature drops and the days become shorter, lay cozily in your outdoor space, relax near your firepit and let the smell of apple, nutmeg, and cinnamon fill the air. September 30th is National Mulled Cider Day and this year get creative by picking your own apples! Mulled cider is a traditional fall drink made by heating cider and adding cinnamon, orange peel, nutmeg and other spices and then simmering it all together. Just the scent of this delicious drink will have you in the fall spirit!
The end of summer and the beginning of autumn is the perfect time to go apple picking! Take a trip to your local orchard and pick some delicious ripe apples to make your mulled cider taste fresh and amazing! Once you've made it and tasted your own mulled cider, you'll want to make it again and again. It is super simple to make and will keep you warm all season long!
Mulled apple cider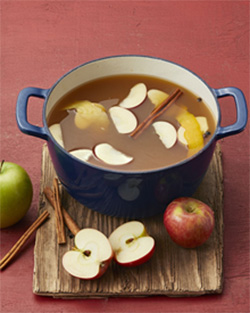 This recipe is full of cozy flavors that will be sure to keep you warm even on the chilliest nights! (recipe and photo courtesy of pioneerwoman.com)
What you'll need:
• 4 whole cinnamon sticks
• 1/8 tsp. ground cloves
• 8 whole allspice berries
• orange peel from 1 orange
• lemon peel from 1 lemon
• 1/2 c. maple syrup
• 6 c. unfiltered (fresh squeezed is great) apple juice
• apple slices and orange twists, for garnish
• 1/2 c. dark rum, optional
Directions:
1. Place the cinnamon sticks, ground cloves, allspice berries, orange peel and lemon peel in a medium saucepan. Pour in the maple syrup and apple juice, then bring to almost a boil. Reduce the heat to low and simmer for 30 minutes. Remove from the heat and serve in mugs with apple slices and orange twists for garnish. Add a splash of rum for an adults-only version! Yum, yum, yum.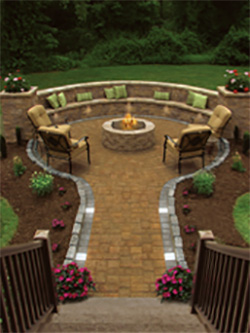 Spend the evening sipping on a tart, spiced beverage near the comfort of your Cambridge fire pit! Place some comfy chairs around the burning fire and gaze at the trees ablaze in crimson, brown and orange. The warm glow from your firepit is the perfect way to create a relaxing ambiance and end the night right!