Summer Outdoor Design Trends
July 03, 2020
Outdoor living trends are constantly changing. There's no better time than the summer to renovate your outdoor space and add trendy and updated amenities!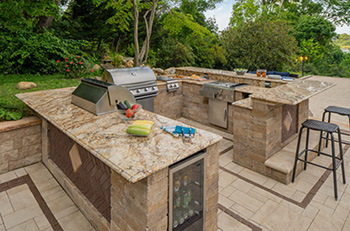 Outdoor dining:
Considering an outdoor bar or grill will allow you to avoid the mess inside and enjoy an outdoor meal with family. Another accessory to consider is an outdoor pizza oven, because who doesn't love a homemade pizza? With Cambridge pizza ovens, you can create all of your favorite types of pizza right from your backyard!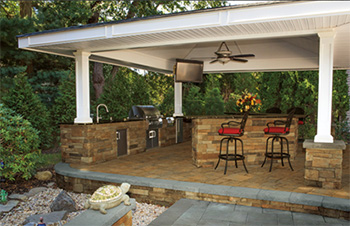 Extending outdoor living throughout all 4 seasons:
Installing a pavilion will help create the illusion of extending your indoor living, outdoors. Hang a T.V under your pavilion to watch the game with family while creating a living room "vibe." The covered area will shield you from the outdoor elements and will allow you to utilize your outdoor space throughout all four seasons!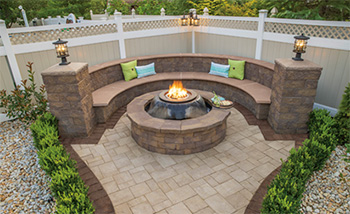 Fire features:
A fire feature is one of the most versatile outdoor accessories! Cambridge offers a wide variety of fire features that will match any type of outdoor space. A firepit can be used as the central point of your outdoor space so guests can gather around and enjoy a relaxing night. If you have a bigger space to work with, an outdoor fireplace serves the same purpose but will be a larger piece to fit the aesthetic of your outdoor living space!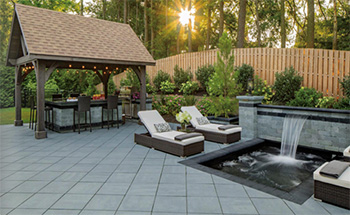 Modernize your space:
Another hot trend for summer 2020 is a modernized outdoor space. Some ways to make your outdoor space more modern are to incorporate monochromatic tones, and large format pavers into your space. Cambridge offers a wide variety of modern style and large pavers that will help to create a trendy outdoor space! These modern designs give a smooth finish which makes the space more aesthetically pleasing!
Utilize your free time this summer by planning and incorporating design trends into your outdoor living space!