5 Tips on How To Find & Hire A Contractor
November 14, 2017
Winter is here and we know exactly what you need to keep yourself warm this season. It is cold out, but that does not mean you need to put an end to your outdoor living. Embrace the season with these hot cocoa spiked drink recipes in front of your Cambridge Pavingstones with ArmorTec fire pit or fireplace. If the fire doesn't do the trick, these drinks definitely will!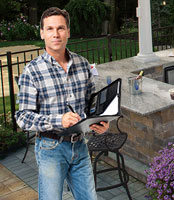 1. Hire a licensed contractor: When taking on a new outdoor project, you want to know that your contractor is capable and credible. When a contractor is licensed, it shows that they are educated in required building codes and processes. Contractors should also be insured. You don't want to be liable for injuries that can occur while working on your project.
2. Create a contract: Before the project begins, create a contract that includes costs, approximate start and finish dates, items that will be installed and any other details that may have been agreed upon.
3. Provide guidelines: It is important to create guidelines along with your contract. Which days and times you want workers in your home, whether they can use your bathroom, any expectations you may have, or any behaviors you don't condone on your property.
4. Ask: Contractors are the experts, so if you have any questions about your role as a homeowner, make sure you ask! You should make yourself aware of your responsibilities by holding a meeting with your contractor and discussing your role before the project begins.
5. Check out work samples: It can be useful to browse the net and view work samples of the contractor you are thinking of hiring. Checking out pictures or real samples of their work will give you a better idea of the quality of their handiwork. It may also give you new ideas on how you would like your outdoor living space constructed!
Your contractor is responsible for making your vision a reality, so it's important to keep these tips in mind when embarking on a new outdoor living project. If you choose to invest in Cambridge Pavingstones with ArmorTec, we make finding a licensed contractor easy. After filling out a form online, one of our sales specialists will provide your information to professional ICPI certified installers in your area. According to their website, for contractors involved in the residential and commercial installation of interlocking concrete pavements, the ICPI Concrete Paver Installer Certification is the industry recognized program for the professionals committed to industry guidelines for segmental concrete pavement installation. Once your information has been submitted, a certified contractor will be in touch with you within 72 hours. Whichever path you choose to take, use these tips as a checklist when beginning to create or upgrade your outdoor living space!